I have had several sets of prints done at this point. I have used a different method for just about every time I have done it and I haven't picked my favorite yet. I think I really like having them sent to my local CVS store though, no matter how they are printed… except when having them shipped is a much better deal.
Tonight I was looking at some photo accessories on Amazon and ran across an offer I couldn't pass up, a lens cleaning pen AND $30 of free prints on ShutterFly. I had nothing to loose, so I did it. I bought the pen (should arrive Tuesday), and received my coupon code and I now have 2 orders with ShutterFly that should arrive sometime next week. I am looking forward to seeing what quality of prints I get. I am excited by a feature they have that no other photo printing service I have used yet does. They will print whatever you want on the back of the photos, for easy identification. This is something I would have loved to have had when I was doing other prints of my work for my digital photography class, to mark lesson and image numbers. Another fun thing I got free is an 11×14 poster containing 1 – 60 images… I picked to do 15… the 15 of my  final project and I even got to have fun and put titles and stuff on it.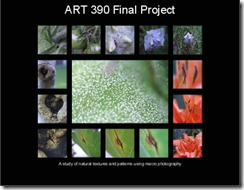 I'm looking forward to receiving all of my prints next Friday.