The previous blog entry was composed and published from the iPod itself, and thus, is a very minimal entry.
The first thing I noticed about the iPod was that Apple doesn't seem to want users to get to their products. It took Chris and I several minutes to get the device out of its plastic shell. Second, perhaps the most annoying aspect of the device, is it must connect to iTunes. I didn't love being asked for my billing information upon first connecting the device, but I went with it.
After getting everything going I started looking for apps. I tried to recall every app that I had seen that I had thought was interesting over time. I remembered a few. I'm trying new things and working towards determining what my functional level with this device is going to be. I have already deleted one app from my device, AIM. I have decided to replace it with Meebo, which seems to be a lot less annoying and a bit more useful.
Currently installed applications include:
Blackboard Mobile Learn – an app for accessing the Blackboard server at Fayetteville. Will greatly improve my connectivity with my courses this fall.
Twitter – duh, an app to interact with Twitter. Post things, read posts, reply.
Flickr – not very useful for me as I don't upload on the go, but in general is pretty sweet for reviewing my photostream
MyRadar – National Weather Service radar images, nice for checking out what clouds are doing
Kindle – Amazon Kindle reader
Meebo – Multi-network instant message client, since Purple doesn't travel yet.
BlogWriter – a minimalistic blogging tool. Only does one account, but I think its pretty neat for simple stuff.
Bookmarks – delicious bookmark app. Doesn't work with Safari at all, but isn't too bad, as it keeps all of my links with me.
Google – Google search, Google Apps
Nikon Learn and Explore – Photo glossary as well as general info for most Nikon cameras. Nice substitute for some of the manuals.
SiriusXM – listen to web-based XM streams on the go
UPS – Track packages, schedule pickup
BodyFitness – workout guide and personal exercise journal
Battery – the iOS battery meter sucks, so have to use this.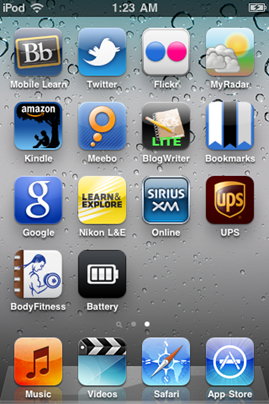 The only thing about the device that makes me feel limited is the design of the touch system. It only seems to respond to human touch, so a normal stylus will not work, I am going to have to obtain a special stylus for such things. There are some things that seem missing, such as an IR port, but otherwise, I'm pretty happy with the device.