In my preparations for the summer semester digital photography course, I obtained the camera, some filters and a few other little things, but one thing I forgot, a camera bag. I am so used to my Nikon N7900 fitting into its little leather case and not needing any accessories. For the last few days I have been looking for camera bags that are inexpensive but yet durable, and I am finding nothing that I like. I suspect that I will end up having to go to a photo store to buy an appropriate bag. Am I crazy for thinking I can be mobile with this camera? How do photographers handle having to keep so much crap with them? How do you determine (online) that a camera bag is the right size? I have seen many bags designed for "Fujifilm FinePix", but that series has a fairly large range of camera sizes.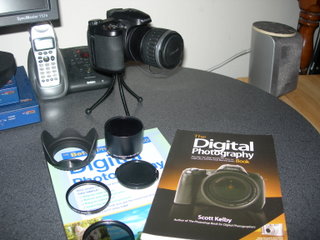 Fujifilm FinePix S5200, table-top micro tripod, digital photography texbook, supplemental digital photography book, lens hood, 55mm lens adapter (for telephoto and wide lenses), UV filter, spare lens cap (when filter in use), and polarized filter.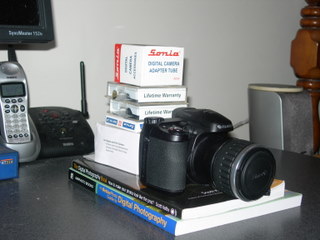 Same stuff, but stacked and in its packaging.