It has been a while since any new screen shots of GITI's Education module were released, so here is a quick look at some of the newer functionality.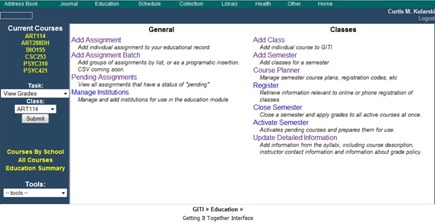 A new menu guides the user into a never before seen world of managing their academic life.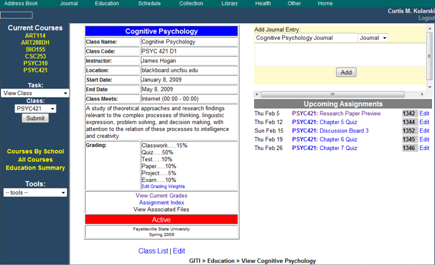 The same old class management page has gotten a few new features (upcoming assignments, journal), as well as the ability to control grade calculation based on a weighted or points system, which the user can set up.
 
And adding those classes has become more streamlined than ever, as it is now possible to insert all of the classes for a semester at one time.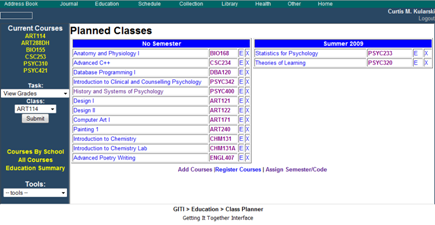 Instead of a clunky list of all courses, sorted by status, pending or planned courses now stay out of the way in their own little hide out for planning a semester. From this system, the user can move courses between semesters and even make a complete four year plan if they know what courses will be available. When the time comes, the courses can updated with instructor information and even take the course registration numbers that can be used when the registration window opens. Beats a post-it.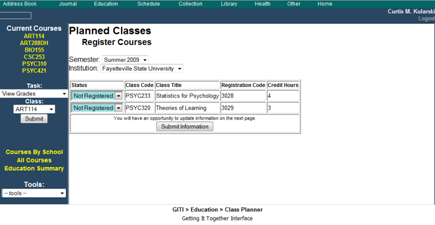 With those numbers, GITI has a handy way to help a user see the numbers and match them up to course information. After this screen (when the user finished registering for courses), the user can input instructors, course description and other pertinent information.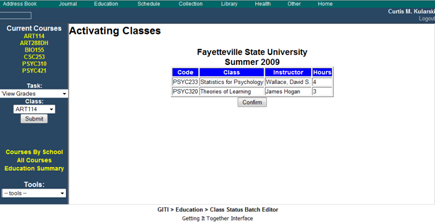 After that long weight between semesters, the courses can be activated in a simple utility, presented here. This activates the courses and will soon move forward to collect more information from the user about the courses that they will find on their syllabus.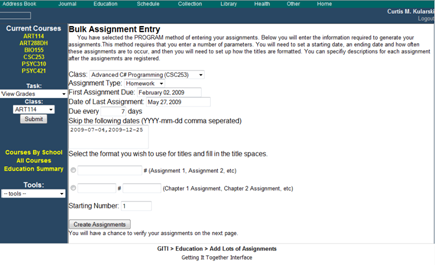 Once the courses are registered and the semester has begun, the student can visit this little utility to enter all of the predictable repetitive assignments that occur during a semester (or just enter a list of assignments, but thats boring, so its not shown here).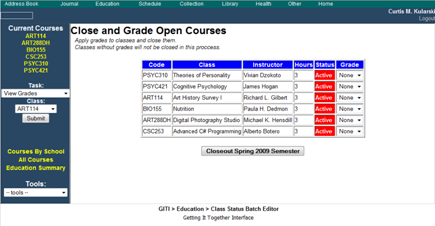 When all of the assignments are complete and the semester is over, it is time to close the semester. This can be done as easily as opening the semester, the student simply visits the Close Semester app and inputs the needed information. This can be done as many times as needed until all courses are finished and all grades are entered.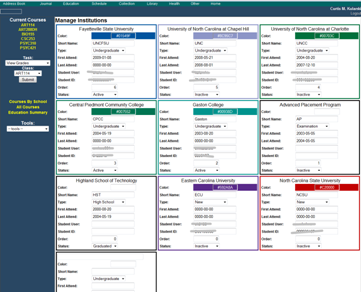 Finally, this whopper of a page (which will likely be getting some size controls based on # of schools entered), allows the user to control critical things about their institutions as well as add new institutions when needed. For most users this page should never become this large and unmanageable, but I suppose I personally am the exception.
This has been a tour of the new GITI Education module. Perhaps at another time we will take a closer look at some other aspects of GITI, such as anything related to its namesake module, Scheduler.