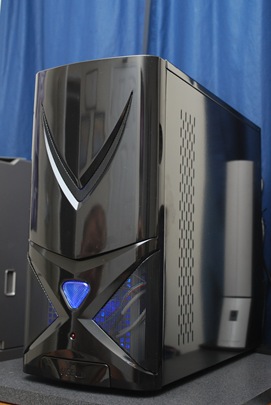 Meet CMK7, the newest member of my fleet. This system is the direct successor to CMK5, my 5 year old, aging, desktop. Surprisingly, CMK7 was built to replace CMK5 because CMK5 was running too warmly, not because of any other issues related to speed or hardware problems. Physically, CMK7 stands about 6 inches shorter, and 2 inches less lengthy than CMK5. I also selected a high-gloss case for this system, to match the computer's intended operating system, Windows 7, as well as its new 20 inch wide display that replaced a 17 inch standard display that replaced a dead 15 inch standard display.
Now for the geeks:
Case: XION XMP 100
Motherboard: MSI K9N2 SLI Platinum AM2+/AM2 NVIDIA nForce 750a SLI ATX AMD Motherboard
CPU: AMD Phenom 9600 Quad Core
RAM: 2GB DDR2 SDRAM
HDD: 500GB SATA3
Video: GeForce 9400, 512MB
PS: 500W ATX
Other: System also features a DVD burner and built-in card reader.
Not a particularly high-end system, but it meets my needs and then some.
Current active members of the fleet: CMK4 (file/print/mail server), CMK5-m (laptop), CMK6 (web/media server), CMK6-m (Mini9), CMK7 (new desktop), CMK3-m (laptop on alternate assignment). In addition, my fleet includes several wireless access points, a digital media receiver, and a pair of network printers.  At this time there are no future plans for CMK5.
On a side note, this is the first published picture taken with my new speed light (flash), my room is no where near that bright. What do you think?